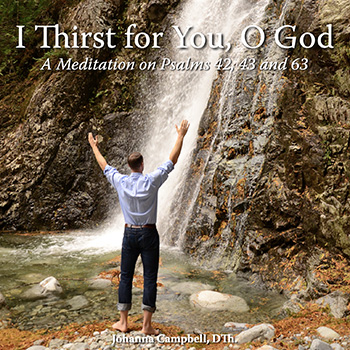 I Thirst for You O God
This book is a Journal/Meditation on three Psalms: 42, 43 and 63 with a conclusion based on John chapter 4. God often brings His people to the end of themselves, having nowhere to go but to the living God. Only God can fully satisfy our deepest yearning since He has place eternity in our hearts. Our hearts are restless until we quench our thirst and find rest in Him. The book ends with the picture in Revelation 22 where we can freely drink from the water of the pure river of life where God's people will be fully satisfied in Him.
PAY BY CHEQUE
If you prefer to pay by Cheque, PLEASE print out the form below and include it with your cheque.
Make your cheque payable to
Jesse Tree Publications
Mail To:
Jesse Tree Publications
Unit #33 - 2989 Trafalgar Street,
Abbotsford, B.C. V2S 7X9
For shipping to the USA and overseas: Add 50% to shipping costs.

Print out and include this
ORDER FORM
with your payment.