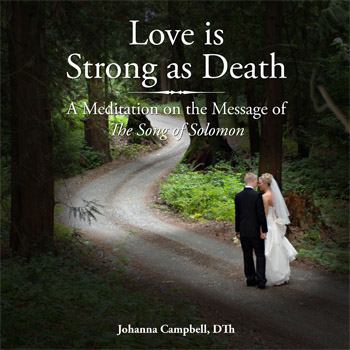 Love is Strong as Death
This book explores God's wisdom in marital love. In the first section (Part I), the author begins with God's creation of marriage and how we try to imagine on the basis of Scripture how it was to be lived out before sin entered the world. Then she looks at the marriages of the patriarchs, the early kings of Israel and the prophets. Part II takes an in-depth look at the song of Solomon as the love story unfolds. Part III is an examination of the meaning of marriage from the New Testament vantage point. The author intersperses personal examples throughout as she has experienced God's wisdom lived out in her own marriage.
Johanna Campbell, DTh., is an author, speaker and teacher who lives in Abbotsford, British Columbia. She walked with her husband throughout his eight-year journey with CBD (corticobasal degeneration, a rare neurological condition) until he crossed the finish line into glory.
PAY BY CHEQUE
If you prefer to pay by Cheque, PLEASE print out the form below and include it with your cheque.
Make your cheque payable to
Jesse Tree Publications
Mail To:
Jesse Tree Publications
Unit #33 - 2989 Trafalgar Street,
Abbotsford, B.C. V2S 7X9
For shipping to the USA and overseas: Add 50% to shipping costs.

Print out and include this
ORDER FORM
with your payment.