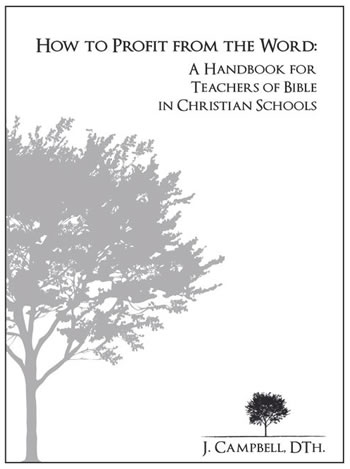 How to Profit From the Word
Even though this handbook is written with Christian school teachers in mind, it is a very useful tool for anyone who wants to teach the Bible to children and youth.
The first three chapters discuss the basic tenets of our Christian faith, using the Apostles' Creed as an overall guide. Chapters 4-10 discuss curriculum frameworks, Christian methodology, pedagogy, learning the Bible in community, and what role the Holy Spirit plays in the classroom. There are five helpful appendices which give ideas on how to assess the subject 'Bible', how to journal through a Bible book, how to do a passage analysis, sample outlines on how to 'camp' around a Bible book, and a page listing some helpful resources for the Bible teacher. Students and teachers alike will learn how to profit from the Word as the Holy Spirit opens their eyes, so that faith, learning and teaching are totally integrated and each becomes part of the warp and woof of their walk with God in the classroom. The final chapter contains a one page curriculum outline for each grade (K-12) allowing students to 'cover' the Bible once in each segment of their school lives: grades K-3, 4-8 and 9-12.
Johanna Campbell, DTh., is an author, speaker and teacher who lives in Abbotsford, British Columbia.
PAY BY CHEQUE
If you prefer to pay by Cheque, PLEASE print out the form below and include it with your cheque.
Make your cheque payable to
Jesse Tree Publications
Mail To:
Jesse Tree Publications
Unit #33 - 2989 Trafalgar Street,
Abbotsford, B.C. V2S 7X9
For shipping to the USA and overseas: Add 50% to shipping costs.

Print out and include this
ORDER FORM
with your payment.